Custom Glass Designs
Ask us about our custom glass and mirror services.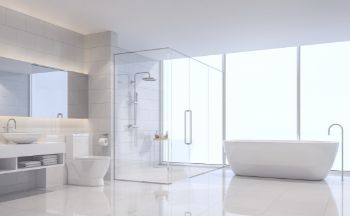 U.S. Frameless Glass Shower Door 

U.S. Frameless Glass Shower Door in Hillside is trusted to enhance living spaces of all sizes. We custom fabricate glass shower doors that enhance the beauty and utility of your bathroom spaces. Our glass design is seen in homes from Chatham to Deal and Franklin Lakes. This includes bathroom mirrors and glass sinks that make bathroom remodeling much easier.

Meanwhile, our commercial glass design in Hillside is trusted by companies across the area. We fabricate flat glass for custom shower doors that match your locker rooms or bathrooms. Your new bathroom mirrors and glass shower doors are backed by over 15 years of experience with start-to-finish service. Our architectural glass cutting delivers one-of-a-kind designs that match your tastes and budget.

Whether laminated glass for a master bathroom or flat glass table tops in Hillside; we are the only call needed at (973) 536-2117. U.S. Frameless Glass Shower Door is fully insured and offers custom finishes for custom glass design that meets your budget.

We Fabricate and Install Frameless Shower Doors along with other Custom Glass
What are the benefits of frameless shower doors? Our precision glass cutting produces a quality product that is durable and fits perfectly. We use computerized glass design that shows how your custom shower doors will look ahead of time. This allows our clients to purchase laminated glass sinks and new bathroom mirrors with confidence. Contractors, homeowners and companies each turn to us for custom glass cutting that enhances the unique style of living or work spaces.

With a lifetime warranty on most pivot hinges, brackets and hardware; our glass shower doors come with peace of mind. You can choose from an array of custom finishes for commercial glass mirrors that match the theme of your business, such as architectural glass with metal matching. Whatever the choice, at U.S. Frameless Glass Shower Door, 'We don't sell glass, we sell quality!'

We also have a location in Newark, NJ. Make sure to visit us if you're interested. Please contact us at (973) 536-2117 to fabricate and install custom shower doors or flat glass mirrors in Hillside. We offer free estimates through our computerized design with flexible schedules.